Rizwana Hamid was 20 years old when she applied to join the police force in . It was 1996. Two years before, Benazir Bhutto had established the first women's police station in the country, but there were still few other female officers. She can still remember her first day; the hostility from her male colleagues made it memorable.
Today attitudes have changed, says Hamid. "When we wear the police uniform, we no longer feel like we are women next to our male counterparts. We are one of them and equal … We are not your usual stay-at-home women. Joining the police service has made us bold and brave."
Related:
Bold they may be, but they are also still rare. These women in uniform make up less than 1% of the force in Pakistan, and Hamid's successful career has been pockmarked by discrimination. On one occasion, male peers locked her and seven other female officers in a room to stop them participating in an operation. There is still a sense among many that the "big" jobs should be left to the men. But Hamid's insight shows that the experience of being in the minority is complex: pride, humiliation, discrimination and empowerment are often tangled up in one career.
You don't have to dig hard to unearth stories of gender discrimination in police forces across the world, from female recruits in to officers in Kenya being reprimanded for. In Afghanistan (where there are just 1,980 policewomen) of sexual abuse and rape of policewomen, as well as sexual favours demanded in return for promotions, prompting Human Rights Watch to on the urgent need for safe lockable restrooms. more subtle discrimination, such as not getting the uniforms male colleagues receive and often being limited to making tea.
Policewomen are particularly at risk in certain situations, says Shaheen Chughtai, deputy head of humanitarian policy and campaigns at . "Despite this, I spoke to one policewoman who said she and female colleagues weren't given guns while on an operation," says Chughtai. "The men were armed and said they would protect them instead. This is obviously both discriminatory and, by taking them into a conflict situation but not giving them the means to defend themselves, high risk."

Related:
But it is now widely acknowledged that having more women in the police is crucial to building an institution that protects the rights of women and girls and facilitates, rather than hinders, their access to justice. "A legal system that better reflects the society it serves sends a clear message that gender-based violence and discrimination will not be tolerated," says UK development minister Desmond Swayne. Their value also clearly goes beyond supporting women: the UN are particularly valuable in establishing stability, particularly in post-conflict states.
So where to start? Breaking down the physical and psychological barriers between women and access to justice is one of the biggest challenges, says Andrew Collingwood at Coffey, the UK's Department for International Development's implementing partner on the. A survey carried out last year by Coffey in Pakistan revealed that 70% of women surveyed felt it was unacceptable for a woman to go to the police with a problem, as did 60% of men.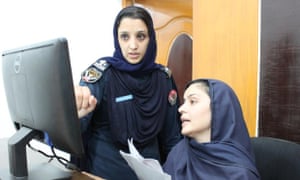 Aitebaar (which means trust in Urdu) has focused on making stations more physically accessible. Women's desks, staffed by one or two females trained specifically to deal with reports from women, have been established at three of the model stations the programme is working with in Khyber Pakhtunkhwa province. "The placing of these desks near the reception means that women don't have to go into the guts of the station, which are often perceived as dangerous places not suitable for women," says Collingwood.
They've also launched a range of community awareness initiatives to place policewomen, and the police more generally, in a more positive light. These have included a radio drama, where fallen police women are recognised by their communities for their "greatness and martyr status" and aspiring policewomen negotiate the hostile reactions of their fathers and brothers.
The Indian government in March this year approved a, after the gang-rape of a medical student in 2012 brought female safety in the city into the spotlight. Elsewhere in the country attempts have been made to make women more visible in the police force: states such as Odisha and Rajasthan have introduced a reservation policy of 30% and others have created female-only police stations and helplines.

Some are reluctant to celebrate just yet. "Women are being taken in because it is the fashion, but then they are not really seen as any damn use," says Devyani Srivastava, senior programme officer on access to justice at Commonwealth Human Rights Initiative (CHRI).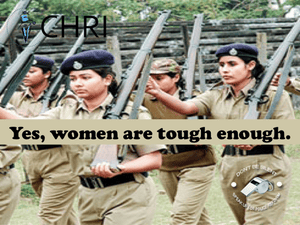 This is evident, says Srivastava, in how far women are ghettoised in the structure of the police; confined largely to the lowest rungs of the institution and desk-based work, often segregated into women-only stations and limited to gender-related cases. "This is tokenism at its best," she says.
Toilets have become almost symbolic of this marginalisation. "Many policewomen talk about not having toilets," says Srivastava. "Officers often have to go out into the middle of a field to change themselves during their time of the month."

The patriarchal structure of the police is held in place by the attitudes of both men and women, says Srivastava. A glimpse of this can be seen in one case study in CHRI's upcoming report, where the majority of both male and female officers surveyed in the Indian state of Tamil Nadu believed that most police duties were performed better by men.
Clearly in places like India, Pakistan and , where female representation remains in single figures, there is still a very long way to go. But the process is a complex one: an institution is more than the sum of its toilet facilities, uniforms, training, and the gender ratio of its staff. Projects such as Aitebaar and Oxfam's campaign have to address the invisible strings that hold the institution back: the deeply held attitudes of both men and women, among the police and the public. And this is not likely to happen overnight.
In Pakistan, hope perhaps need to be placed in the next generation. Hamid is one of the 756 policewomen in a district force of 70,000 – still far off the 10% government quota, but a rise from 677 the year before. Her experience has often been challenging, so would she encourage her three children – all girls – to join the police force?
"Absolutely," she says. "I want them all to study hard to become policewomen."
Source : theguardian[dot]com