Soldiers and others who served in Afghanistan for more than a decade have been officially welcomed home in parades across Australia on Saturday.

From late 2001 to the end of last year, about 35,000 defence personnel, officials, police and diplomats served in what was called Operation Slipper.

That was Australia's contribution to the conflict in Afghanistan, launched after the 11 September 2001 terror attacks on New York and Washington.

Forty-one Australians died in Afghanistan during this mission.

Marches and ceremonies for serving personnel and veterans were held in Canberra, Melbourne, Hobart, Adelaide, Perth, Darwin, Townsville, Brisbane and Sydney.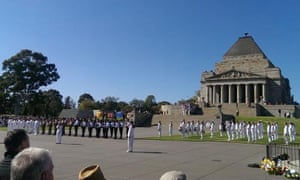 The prime minister, Tony Abbott, had encouraged people to get out and show their support to make sure Australia's Afghanistan veterans don't return "unloved and unappreciated" as did some Vietnam veterans.

"We've had almost 35,000 Australian personnel, mostly armed forces personnel serve in Afghanistan and it's important that that service, over a decade in our longest war, is properly saluted," the prime minister told Macquarie radio on Friday.
Speaking on Saturday, Abbott thanked Australian defence personnel and others who served in Afghanistan.

In an address at the welcome home ceremony in Canberra, the prime minister said Afghanistan was a better place for the service of about 35,000 Australians.

He said the war in Afghanistan had ended not with victory or with defeat, but with hope for a better Afghanistan and a safer world.

"We are grateful to have you home, we acknowledge your achievements, and we thank you for your service," he told the large gathering at the Australian War Memorial.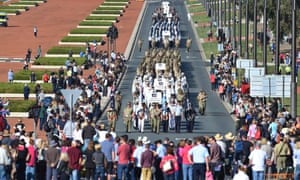 The opposition leader, Bill Shorten, said he saluted those who had served in Afghanistan who had brought new honour to the Anzac tradition.

More than 2000 soldiers, sailors and airmen plus members of government agencies and veterans marched past the Australian War Memorial.

Defence head Air Chief Marshal Mark Binksin said Australian personnel had given new hope to the people of Afghanistan. "We can never repay the debt of those who served," he said.
Thousands of returned ADF personnel marched through central Sydney, too.
Proudly dressed in their military uniforms, many with medals pinned to their chests, the servicemen and women made their way down George Street, cheered on by hundreds of spectators.
The parade finished at Hyde Park, where the commemorative ceremony was held at the Anzac Memorial at 11.30am.
Earlier, one of Australia's highest ranking military officers described the march as a "fantastic" opportunity to recognise the work of the nation's defence force.
Vice-Admiral Ray Griggs said the event gave many more Australians the chance "to acknowledge the contribution" of those who had served in the Middle East.
He also touched on the issue of mental health of soldiers returned from the conflict zone.
"The whole mental health issue is one that is hugely important, we've put an enormous amount of effort into that over the last few years," he told reporters.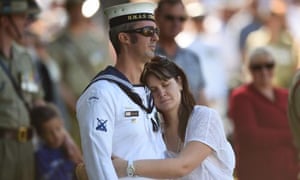 Families of soldiers who died in Afghanistan gathered at the Melbourne parade to welcome home troops returning from the war.
More than 1400 defence personnel marched down St Kilda Road to a ceremony at the Shrine of Remembrance.

Philomena Wolahan, whose son served in Afghanistan, said it was important to say thank you to the troops who served overseas and their families.

"Particularly to support the families who have lost members. I think that's one of the most important things today, to be here for them," Wolahan said on Saturday.

"Because we're very lucky that we have some of our sons and daughters, but a lot of them here today don't. So we're here to support them mainly."

Henry Polis, who was conscripted into the Vietnam War, said he was there to see the troops receive public recognition.

"Which is the sort of thing we did not get when we came back from an unpopular war," he said.

Polis said those who served in Afghanistan deserved to know their country respected the risks they took.

The defence minister, Kevin Andrews, praised the members of the ADF, Australian federal police and other government agencies for their service in Afghanistan.
"Australia has also felt deep sorrow for the 41 soldiers who made the ultimate sacrifice," Andrews said.
Source : theguardian[dot]com