By Humaira
Aush is a hearty noodle soup with chickpeas, and kidney beans garnished with a ground beef sauce (called kofta in Farsi) and a dollop of yogurt. It's my go-to dish on a cold winter day or when someone in the family is in need of comforting or when I'm on the go and I want to assemble a quick and easy meal.
Six months ago my family became vegetarian (following my 17-year-old daughter's lead) and as the main cook in our family, I had to rethink many of my family's favorite Afghan dishes to adapt it for our meat-free lifestyle. This has proven to be a bit tricky since Afghan cuisine relies heavily on onions and meat to create a base for many of our beloved dishes like Palau, Aushak, and Afghan chili, Mawshawa, just to name a few.
For Aush, I was in a quandary about how to make a flavorful kofta, tangy meat sauce, with plant-based protein options. You see, kofta is normally made with ground beef, tomato sauce and a variety of spices that create a subtle but flavorful accompaniment for the spaghetti noodles that are boiled in water and spiced only with salt.
After trying out several options I settled on using two patties of Beyond Meat with a package of soft tofu. The reason I mixed the two different sources of protein is that the tofu adds volume without breaking the bank (Beyond Meat is pricey) and it diffuses the strong meaty scent of Beyond Meat which I sometimes find overpowering. I'm also suspicious of how they make the patties look, smell and taste like meat but that, we'll leave for another post.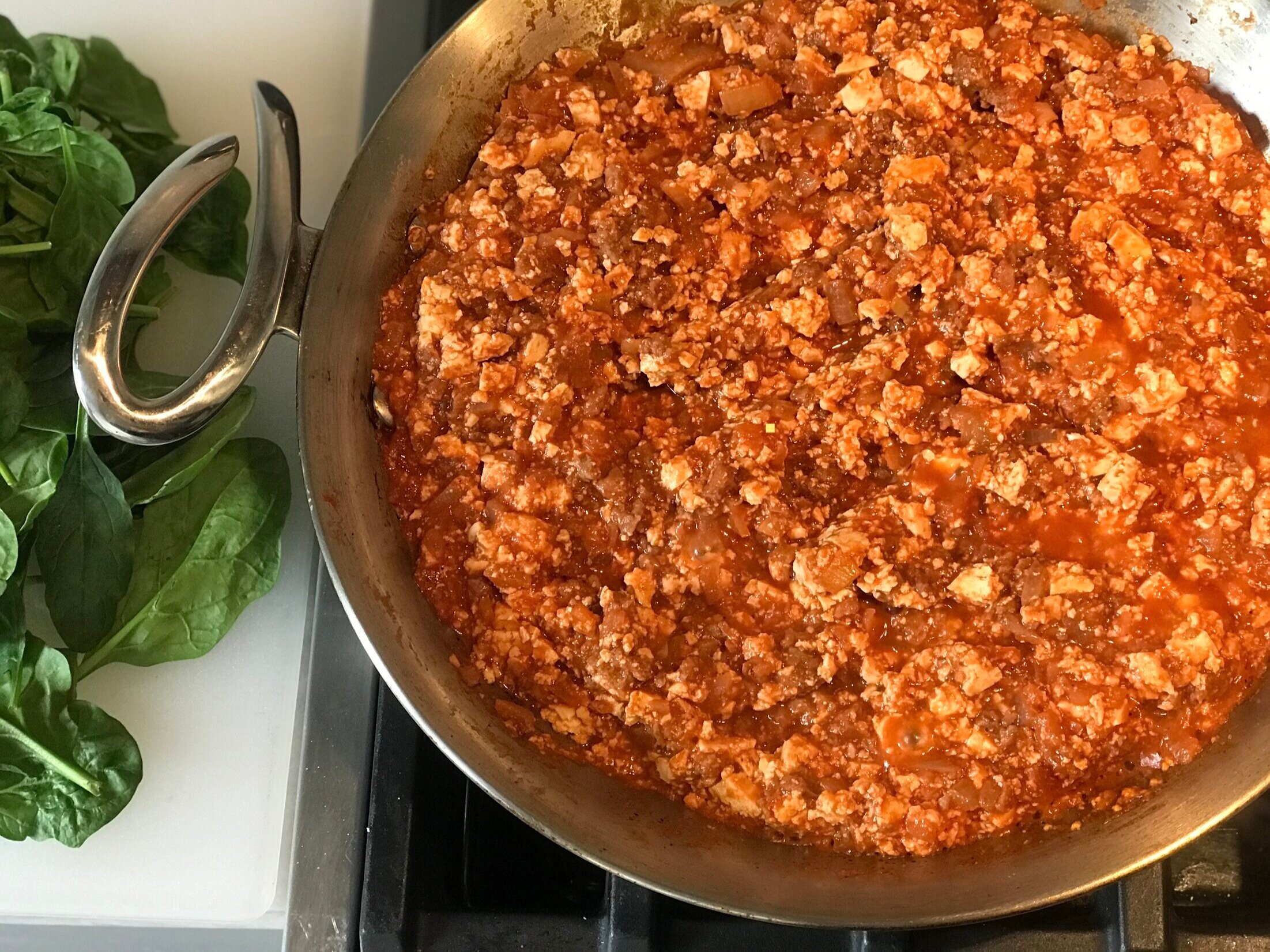 Going back to the recipe, in order to get the rich taste of kofta I've bumped up the use of spices—cumin, coriander, paprika—and increased the cooking time of the meatless kofta to allow all the flavors to meld together. Also to ensure that there is plenty of protein in this meal, I suggest using a protein-packed pasta such as Barilla's Protein-Plus.
With the current crisis and shelter-in-place in effect, (stay home, save lives) we can't run out to pick up all the 'right' ingredients. So, if you don't have spaghetti pasta, it's okay, use penne. If your tomato sauce has spices included, it's fine, just use it. If you've run out of onions and have shallots, go ahead, they'll do.
Also, if you're not a vegetarian and would rather make my traditional Aush recipe with meat kofta, then you are also in for a treat since we've had this recipe in place for many years.
I hope you like Humaira's Vegetarian Aush recipe. Don't be shy, pop into the comment section of this post and let me know how your meatless aush turned out. I would love to hear from you about what your family's comfort foods are and what you're cooking while quarantined. Best wishes to you and your family. Stay healthy.
HUMAIRA'S VEGETARIAN AUSH
Afghan Bean And Noodle Soup
1 medium or large yellow onion, finely chopped
2 tablespoons. olive oil
3 cloves garlic, minced
2 Beyond Burger patties
1- 15.5 ounces package of soft tofu drained and chopped into 1-inch cubes
1 ½ teaspoon ground coriander
1 1/2 teaspoon paprika
1/12 teaspoon cumin
2 teaspoons salt, separated
½ teaspoon. ground black pepper
1 - 15 ounce can of tomato sauce
10 oz uncooked protein-packed spaghetti (doesn't have to be exact)
10 cups water
1 15 ounces canned kidney beans
1 15 ounces canned garbanzo beans
1-pint plain Greek yogurt (or vegan yogurt)
Dried or fresh mint or dill (optional)
Dried pepper flakes (optional)
We sometimes add a few handfuls of chopped spinach or Swiss chard when the pasta is nearly cooked for extra color and nutrition.
Instructions:
Saute' the onion in olive oil in a non-stick frying pan on low heat until tender and golden. Add the garlic and all the spices to the pan, sauté another 2 minutes. Add the Beyond Burger patties & tofu to the pan. Use a spoon or a potato masher to break up the meatless meat & tofu so it is loose and separated (like taco meat, see picture below). Once the meatless meat is browned, around five minutes add 1 teaspoon salt, pepper, and tomato sauce. Mix everything well and continue to cook over low heat covered for about 20-25 minutes.
While the meat is cooking, pour the water in a large pot and bring to a boil. Add the spaghetti and boil for 5 minutes. Empty the beans into a colander and rinse with water. Add the beans and 1 teaspoon of salt to the spaghetti and continue to cook until the pasta is done.
To assemble, put 2 ladles of noodles and broth and 2 spoonfuls of meatless kofta into a deep serving bowl. Finish with 1 or 2 spoonfuls of yogurt on top and sprinkle with dried mint or dill and pepper flakes. Give it a stir and eat.
Source : afghancultureunveiled[dot]com