Like other British soldiers who served in Afghanistan, the former captain Ed Aitken relied heavily on his Afghan interpreter. And not just for translation.
Nervously leading his first patrol in Helmand province in 2011, Aitken recalled coming under fire for the first time: "The infamous crack-thump of fire in our direction and a crack-whizz of rounds deflecting off undergrowth."
He turned to see his interpreter, Mohammad Hares, looking relatively relaxed. Hares had already spent two years deployed with the British military. He had experienced much worse. "I felt safer knowing Hares was nearby. He probably had more combat experience than even my hardened troop sergeant," Aitken said.
It was the start of a collaboration which turned into a friendship and latterly into a movement that took on the Home Office – with impressive results.
The British military employed an estimated 2,000 Afghan interpreters between 2001 and 2014. About 390 relocated to the UK and an unknown number of others arrived illegally. But many have been unable to bring their wives and children with them; and hundreds more remain in , some in mortal peril from Taliban reprisals, having not met stringent eligibility criteria for the resettlement programme.
Aitken suggested contacting the interpreters to set up a network. "I agreed," said Hares. "I got in touch with other Afghan interpreters and asked what the major problems were. We discussed visas, families, what would happen when our visas ran out. We collected all the information.
"We became the focal point for the Afghan interpreters," Aitken said. They called the organisation . Sulha (which means "reconciliation" in Dari) is now in contact with more than half of the 390 interpreters in the UK.
The initial aim was threefold: to secure indefinite leave to remain for those given temporary British visas; to waive residency application fees of more than £2,000, which most of the group could not afford; and to secure the right for families to join them in Britain. They also wanted all interpreters to be eligible for resettlement, not just those in service during the narrow window specified by the British government.
Aitken and Hares set about contacting the media, lobbying politicians, senior military figures and anyone else they thought might listen. Favourable press coverage, including a , helped.
In April they sent a letter to the Home Office: "We took great risk because we believed in the integrity of the British army, only to be let down by the politicians who see us as a number and not as people," they wrote.
The letter arrived on the day . Her successor, Sajid Javid, announced a series of concessions intended to ease the way for their resettlement in the UK. Among them, to apply for permanent residence. The announcement made national headlines.
"We had an amazing success," says Aitken, noting that Javid conceded the points on his first day in office. "This two-man band got the home secretary on his first day in office pledging to make the changes."
Butthis was just the beginning. Many issues remain unresolved, such as the fate of the interpreters who arrived in the UK without visas and those still in Afghanistan and who want to leave. Hares said many interpreters left behind in Afghanistan are even more at risk now. "It is 10 times worse than 2010," he said.
Messages from interpreters eager to leave the country suggest that the resettlement process is sluggish at best. A dedicated phoneline set up in the British embassy in Kabul is proving problematic.
"I called them many times but they don't pick up," wrote one former interpreter who worked with the army for three years. "Can you please find out [if I qualify for resettlement]," he asked via the Sulha WhatsApp group chat forum.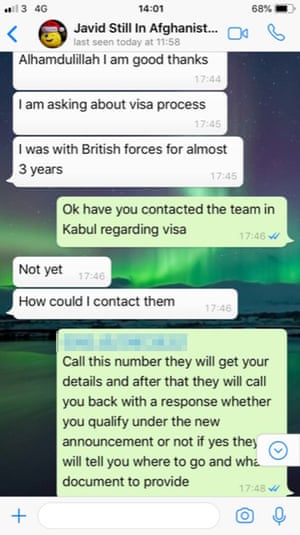 Family reunion is the other big issue that needs resolving, says Aitken. Interpreters were told they needed to bring family with them immediately – a now-or-never offer. But many were unable to do so, for practical, bureaucratic or mundane reasons.
However, Aitken and Hares have dug in, and late last month received an encouraging letter from the immigration minister Caroline Noakes. "I am … committed to looking again at what can be done to make it easier for Afghan interpreters to bring family members from Afghanistan to the UK," she wrote.
"The government has said those relocating to the UK can do so with their families and I am determined to respect that commitment," she added, offering to meet Hares to discuss the issue.
Aitken and Hares are not giving up. They also want to secure better working opportunities for the Afghans who are resettled in the UK, as very few have landed on their feet professionally. They see great potential inthis talented labour pool who could be employed as reservists, police officers or social workers.
The motivation behind Sulha applies as much today as it did when they founded the organisation: that the UK should not turn its back on those Afghans who worked and fought alongside British troops.
"We are still campaigning. We will keep struggling and keep trying," Hares said.
Source : theguardian[dot]com