I don't know about you but this has been a challenging summer for us with the pandemic, the Black Lives Matter movement, an uncertain future for our children and now in Calfornia, we are facing wold fires. I'm grateful for not living in the line of the fires, the smoke, however, has blanketed our city for the past week causing us to be quarantined in our homes again. Of course, our sacrifices are negligible compared to those who have lost family members, homes, businesses, and their livelihood in the fires.
How's your family faring?
One thing I am grateful for this summer is that my family gathers around the dining room table every night to share a meal together. This is a special treat since Jim and I were nearly empty nesters and now we have both kids and one friend living with us. Since we have two meat eaters, one fair-weather vegetarian, and two devoted vegetarians, sometimes creating a menu that satisfies all is a challenge.
This weekend I pulled out one of my favorite recipes, Chapli Kebab, which in Afghanistan is essentially a small amount of ground meat formed into patties, and then fried. I made two batches, one with ground beef and another with plant-based Beyond Beef. I have to admit, they were both delicious...slightly different in flavor and texture but equally satisfying.
Chapli means sandal in Dari, so a chapli kebab is meant to be as thin as the sole of a sandal. This is not exactly an appetizing image but someone must have thought it a good description. I love making chapli kebab for family gatherings since it's easy to double or triple the recipe, pot-lucks (when they were happening), and family BBQs. In my original recipe of chapli kebab which I posted many years ago, I grilled the kebabs but in today's recipe, I'm using the traditional method of cooking these kebabs, frying. If you are oil averse, no worries, simply cook the kebabs in a lightly oiled skillet for about 5 minutes per side instead of frying.
Chapli kebab goes well with Shornakhod, Afghan potato salad, or with a side of Challaw rice and Salata.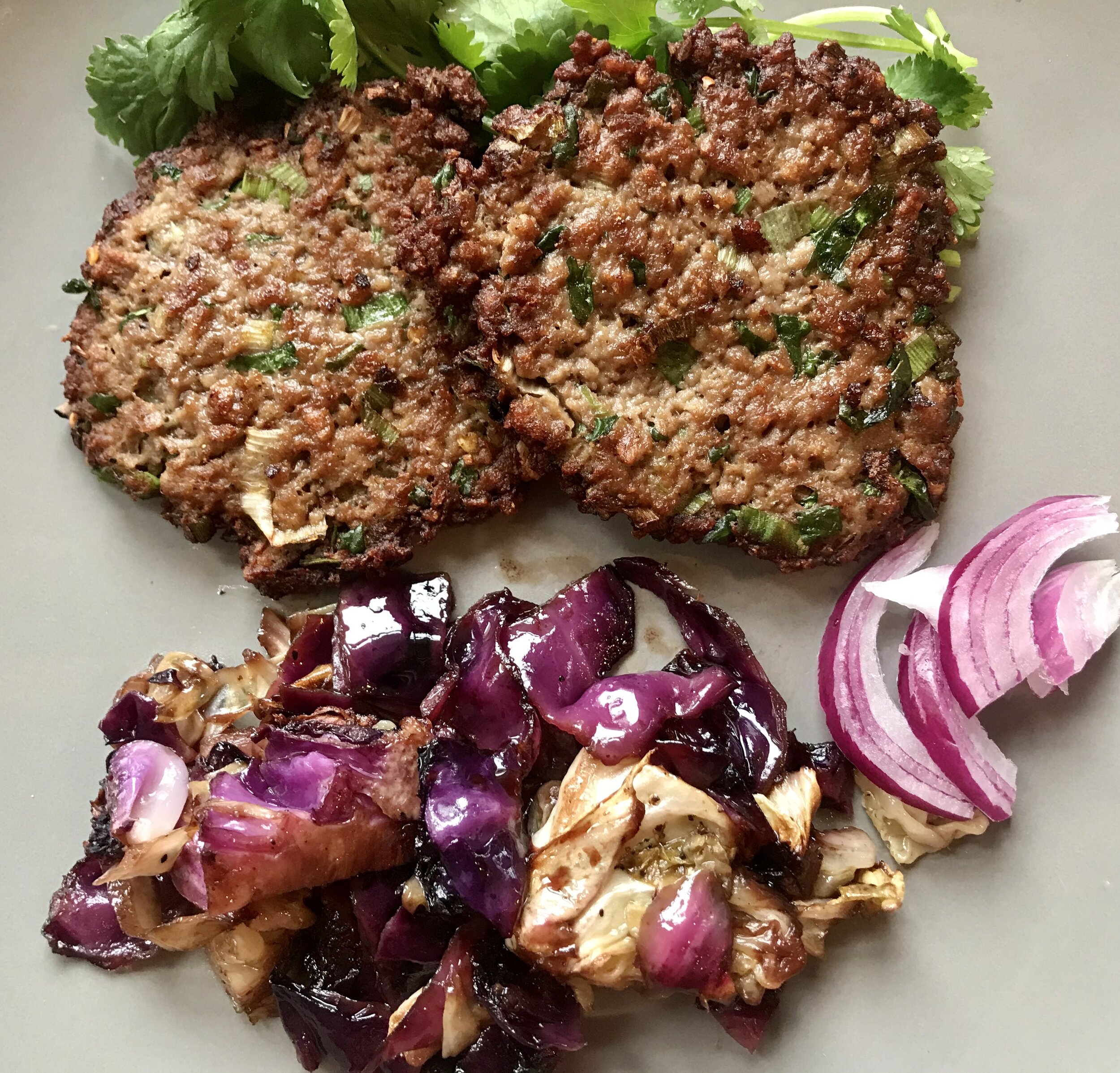 Chapli Kebab
Juicy Afghan Burgers

1 pound Beyond Beef (plant-based meat), ground beef or ground turkey
¾ cup finely diced green onion (both white and green parts)
¼ cup finely chopped cilantro (stems are fine)
1-2 Jalapeño peppers, deseeded and finely chopped
1 teaspoon finely chopped garlic (around 2-3 garlic cloves)
½ teaspoon salt
½ teaspoon black pepper
2 teaspoons ground coriander
1/2 teaspoon paprika
½ tsp red pepper flakes (optional)
1 cup of avocado or vegetable oil (you may also cook on a lightly oiled skillet, see instructions below)
Add all ingredients (except for the oil) in a large bowl and mix by folding the meat (rather than kneading like dough) while pressing the ingredients in the meat and making sure that it's evenly distributed. It's very important that all the ingredients are mixed well and the meat takes on a smooth texture. This should take 3-5 minutes.
Let meat rest for 10 minutes.
Place a large frying pan on a medium-high flame, add oil and let it get piping hot. In the meantime, divide the meat into eight pieces and roll into balls. Pat the meat into a thin, round disk and add to the frying pan. Cook each side for 2-3 minutes or until it's cooked all the way through and juicy. While there is no "medium rare' in the Afghan vocabulary, be careful not to overcook them. You can skip the frying by simply cooking the kebabs in a lightly oiled skillet for about 5 minutes per side.
Serve with warm pita bread, salad, and a dollop of yogurt.
Source : afghancultureunveiled[dot]com